Deepankar jyoti Bhuyan from Bollywood city!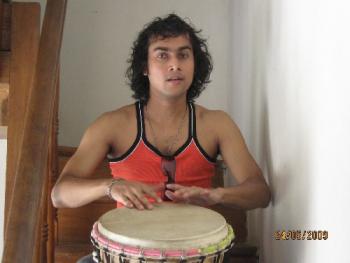 Hi, this is Jeem, good name Deepankar jyoti Bhuyan from Bollywood city Mumbai. Doing music professionally here since 4 years. Percussion is my passion and my profession. I m dedicated to this art since childhood. I belong to a musical family . So, I started learning music in my home at the age of 4 . tabla is my first instrument and learnt it from my father Arun kumar Bhuyan . Later I learnt from many teachers for further knowledge. Some more information about me following below
INSTRUMENT I PLAY Tabla, Dholak,Darbuka,Drums,Conga, Bonga, Timbali , Duff, ,all kind of folk percussion instruments , etc
LEARNT FROM PT. Giridhar Prasad Jaipur wale, Ustad Tahir Hussain Khan, and got glimpse from TRILOK GURTU
WORKED FOR MUSIC DIRECTORS Annu malik, Preetam ( dhoom fame ), Raju singh , Salim suleman , Sankar ehsan loy,Zubin garg, Raghab sachar , and many more
D J WITH WHOME I'VE PERFORMED Whosain, Naved ,Remi,Ruskin , Mo (U K ) , James (U K ) , Mathew (U K ) and many more
CLUBS , PUBS, HOTEL I PERFORMED Seijos, Dome, Henry tham, salt water , red light , olive , megic , Taz president ,Taz mahal, Rainassans , White and all over India many more places
RECORDINGS OF MOTION PICTURES AND ALBUMS Fantoos , satta , aan , Strings , Agnipankh , Madhubala , Dafliwale (remix) Aise na dekho jara , Dharkan , Chanda ki doli and many more regional projects
FUSION PROJECTS I played in d j whosains fusion project for an American band, Trabon player martin daahanu kar from canada and played for an American motion picture
LIVE SHOW PERFORMED WITH Shaan, Kailash kher, Raghab sachar,,Zubin garg( Ya aali fame ) , and also with fusion band
MY AMBITION AND GOALS I like to do good music and create good sound for this beautiful world .
Email: zeem_rytham@yahoo.co.in
Mobile # 09820117854